DIRTY DEALING UPDATE
Hello everyone! Welcome to the second update for Exorath, and last update of 2018. In this post, I will be breaking down every feature that has been implemented with our brand new Dirty Dealing update, along with minor changes that have been made on the server.
CASINO
There is now a casino within the prison! You can access the casino by typing
/warp casino
. At the casino, you can interact with the Gambler (pictured below) and choose ways you can gamble your money. Alternatively, you can type
/cf
to access coin flip games,
/rps
to access RPS games, and
/jp
to access the jackpot.
THE DEALER
The Dealer has been finally stocked up! You can trade for many cool items such as keys, crystals, money pouches, and bombs. You must obtain Gold Coins for trading with the Dealer. You can find these while mining, or trading your tokens with the Banker.
THE BANKER
You can trade in your tokens for Gold Coins by using the new Banker NPC! The Banker is located at
/spawn A
and will give you 1 Gold Coin for 50 tokens, 2 Gold Coins for 125 tokens, and 5 Gold Coins for 200 tokens.
FULL PATCH NOTE
- Added the casino, along with coin flip, RPS, and jackpot games.
- Stocked the Dealer up with new items.
- Added the Banker NPC at /spawn A.
- Added the /ignore command.
- Added the /ranks command.
- Changed the task of the Felix, Guo, and Sam quest.
- Removed all Christmas decorations.
- Added in Santa Claus' week 2 and 3 items.
- Buffed prices in the Merchant and Miner shops.
We hope you enjoy the new update! If you have any questions or concerns regarding the update, leave a comment below. Have fun and hope to see you online!​
CHRISTMAS UPDATE
Hello everyone! Welcome to our first major update for Exorath. In this post, I will be breaking down every feature that has been implemented with our brand new Christmas update, along with minor changes that have been made on the server.

SANTA CLAUS
Our first addition to the server with our Christmas update is the arrival of Santa Claus! Santa Claus can be found at /spawn A. You can give Santa Claus special "Christmas Cookies" for some limited edition Christmas items. You can find Christmas Cookies in daily quests, lucky blocks, keys, and on purchase of ranks and rank upgrades on our store. There will be new items in the workshop each week, so check back for 2 more Saturday's to find what Santa Claus is trading!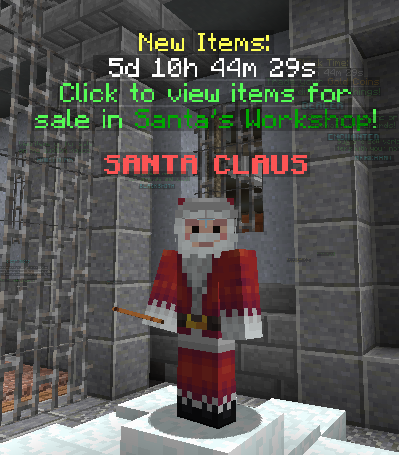 THE ELF
The Elf has not been fully added as of the time of this announcement, however, he will be coming in the next few days! You can find the Elf at /spawn A underneath the Christmas tree. When you click him, he will gift you a present which can be opened on the 25th of December for a secret prize!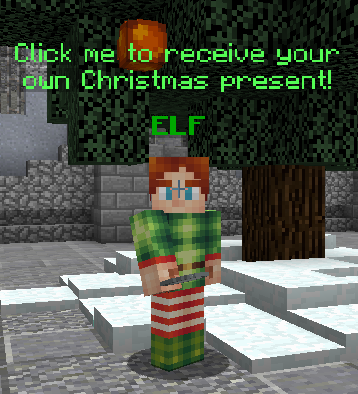 CHRISTMAS KEY
Take your chance at some limited time prizes with the Christmas Key! There are some festive prizes in the crate, ranging from a Lump 'o Coal all the way to a Candy Crusher pickaxe! You can obtain this key from Santa Claus, in other keys, or by purchasing them on our store.

Store Link: 1x Christmas Key
Store Link: 3x Christmas Keys
(P.S: There is a 25% off sale active right now! Take advantage of it and buy some keys!)
FULL PATCH...
​
WELCOME TO EXORATH
Hey everyone, welcome back to Exorath! We're extremely happy to announce that we will be opening the server back up after 5 months of being closed down. The wonderful staff and I have created a brand new prison game mode that has never been seen before. We've merged two popular types of prison, OP and hardcore, and created something that we're extremely proud of. As of now, the server is still being crafted by our team and custom developed by a talented developer. Our plan is to release the server sometime in November, however, nothing is set in stone currently. We will keep you updated as time goes on.
In the meantime, we encourage you to create a forums account and join our Discord server to interact with an amazing community. One thing we can tell you is that we have great interest in hiring some new and familiar faces for our staff team! If you are interested, you can apply for staff on the forums by clicking
here
. Please be sure to read the guidelines thread (
click here
) to understand our requirements and look over some frequently asked questions.
We hope to see some familiar faces, along with some new ones in the community in the coming weeks! Feel free to leave a comment on this thread or contact a staff member if you have any questions regarding the server. We can't wait to show you what we have in store.
Forums:
https://exorath.net
Store:
https://buy.exorath.net
Discord:
https://exorath.net/discord
Rules & Information:
https://exorath.net/rules
​